Mr./Ms.InfiRay 2021 Recruitment -Kicks off!
28th May 2021
Do you like and support InfiRay brand and products? Are you the one who are active in social platforms, online and offline communities? Are you good at content creation and are willing to share your review feelings with others? If your answers are "Yes", Congratulations! You are probably the right Mr./Ms.InfiRay we are looking for!
Mr./Ms.InfiRay 2021 Recruitment -Kicks off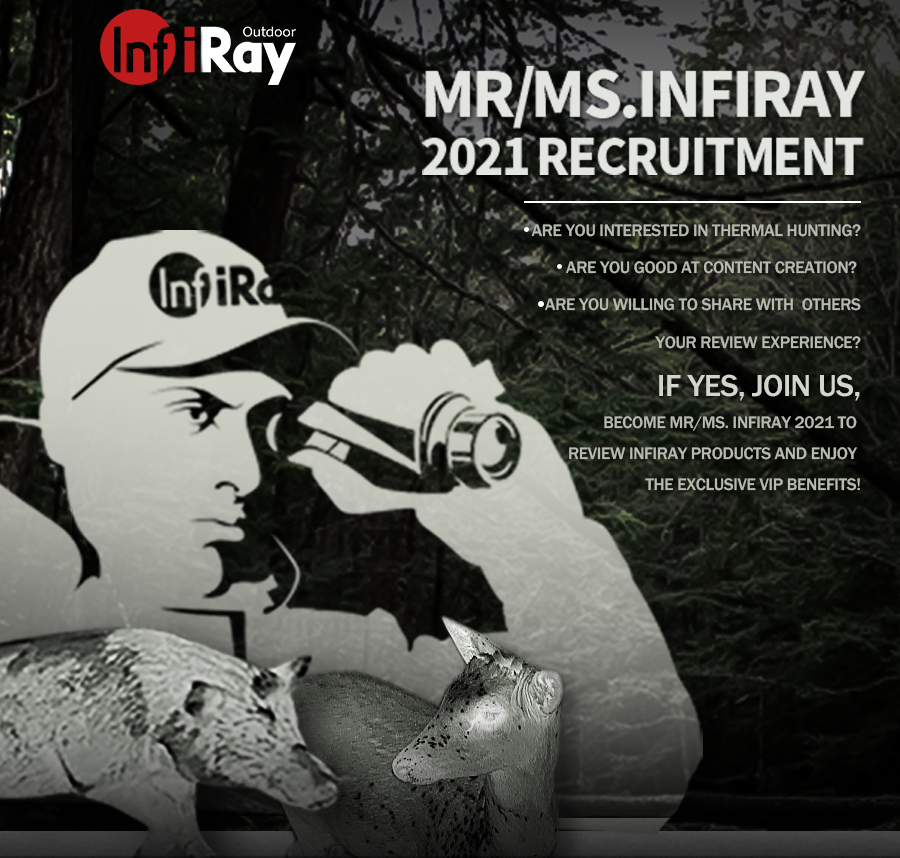 Mr./Ms.InfiRay 2021 Recruitment is an exclusive yearly renewable campaign for avid thermal hunters, outdoor content creators for thermal, and other experts& professions for thermal imaging products who will act as ambassadors for the InfiRay brand.
What We Need to Know About the Recruitment Campaign.
What Mr./Ms.InfiRay will do:
Review InfiRay products, and share your review through your own social media platform or your hunting community;
Act as the bridge between our customers and the brand;
Carry out brand campaigns with InfiRay Outdoor together.
What can Mr./Ms. InfiRay benefit?
Review InfiRay Outdoor devices, and have the opportunity to review the newest devices;
A set of InfiRay exclusive 2021 souvenir;
Enjoy 70% discounts for two InfiRay outdoor devices;
The opportunity to get rewards for InfiRayLimited Edition RICO/E6 PRO thermal imaging scopes.
What's more for becoming Mr./Ms.InfiRay?
If you are selected as Mr./Ms.InfiRay, during the coming year, as long as you create more qualified contents, you will be outstanding and be awarded:
InfiRay Limited Edition Thermal Imaging Rifle Scope RICO/Thermal Imaging Scope E6 PRO
InfiRay VIP after-sales service
In the second year, priority will be given to become Mr./Ms.InfiRay
Terms & Conditions:
At least 18 years of age;
Legally allowed to own firearms;
No felony convictions;
No hunting/fishing/game violations.
InfiRay reserves the right of final interpretation for the content hereinabove.
When to hold this campaign?
The Recruitment Period: May 28th, 2021 -July 28th, 2021
The Selection Period: July 29th, 2021-August 10th, 2021
Mr/Ms.infiRay Competition Period: September 1th, 2021-August 1th, 2022
Mr./Ms. InfiRay will be announced on August 10th, 2021.
How I Can Apply For Becoming Mr./Ms.InfiRay
How to participate in this campaign? Just 4 steps!
Step 1: To check whetheryou are qualified and willing to becomeMr/Ms.InfiRay;
Step 2: To click"Registration Now"in the official website;
Step 3: Fill in the registration form and submit;
Step 4: On July 28th, informed to be Mr/Ms.infiRay by infiRay Outdoor if you are selected.
Are you ready? Click the following channel link and fill in the registration form right now!